ar code logo. slipknot arcode
That, right there, is one of the reasons why the Apple community is widely mocked. You should be ashamed of yourself. A complete lack of understanding on the most basic principles of technology.
Precisely, well said :)
---
arcode logo design. arcode
Isn't it all hormonal mishaps in the womb? Does your God control that? If so, he is predisposing people to sin, and isn't that unfair that not all are exposed to that disposition?
We all have our crosses to bear. Ultimately it is up to the homosexual to sin or not
...And the Oscar for "Greatest Generalization In An Online Forum" goes to...

You.

:rolleyes:
What does my post have to do with cinema excellence?
And your proof of this is......??

Heterosexuality is the default way your brain may work. But just because it's like that for you, doesn't mean it's like that for us all.
default: a preselected option adopted by a computer program or other mechanism when no alternative is specified by the user or programmer.
Unless influenced otherwise the brain develops heterosexually
---
ferrari arcode logo. google
840quadra
Apr 25, 03:10 PM
statistics show that distribution of firearms mainly lead to more homocides and also suicides using firearms.
if guns are outlawed, their distribution is greatly limited, making it a lot harder for outlaws to obtain them.

the more you spread guns, the greater is the risk of them being used in illegal activities.

..oh wait... this forum is about apple and computers, right? :rolleyes:

Noted,

But this is totally off topic, and this falls into the relm of Politics, Religion, Social Issues (http://forums.macrumors.com/forumdisplay.php?f=47) .

When you have a high enough post count, I am sure a few of us would love to discuss the inaccuracies of the facts you think you understand on this subject. ;) .
---
google arcode logo.
---
weeks ago via wasp barcode
Popeye206
Apr 11, 06:16 PM
Why do most iPhone threads have to turn into a Android vs iPhone thread?

Honestly, if the notification system and differences in multi-tasking is all you can hang your hat on... I'd say why change? Those are OS things that will and can change in iOS. But show me one Android based smart phone with a retina like display? Show me one that the manufacture will keep you up-to-date with the latest Android OS? Oh... that's right... they don't do they? Or not at least very fast because once a new OS is out, then it's up to Moto or HTC or whoever to update the new Android OS for your model of phone and hopefully it hasn't been put in the done pile yet because a newer model is out. Oh... one last thing... how's customer service over at the Moto store?

Okay... so there's my rebuttal to all that foolishness. Really... I don't care. If you like your Android phones fine. This is an Apple site and whining about "the outdated notification system" is old. Besides... this thread is about the iPhone 5 hardware... not the OS. I'm still working on the assumption we're going to hear about iOS5 at the WDC and there's a good chance iOS5 will one-up the game again with no change to the hardware.

Okay... I'm done playing fan boy and ranting. :p
---
arcode logo design. slipknot
hey bokdol, you and i can start a business and help all the intel mac pro users dispose of their old G5 power macs

we can go into business :)


i'm in
we can start today
---
ferrari arcode logo. arcode
I cannot help shake the feeling that some of the vitriol from certain people is the fear that a more coherent and unified Android ecosystem is an even bigger threat to the iOS platform.

First, I have a Dell Streak. Wanted to see what the fuss was about. Took a year for the official Froyo release to appear. Yeah, fragmentation exists.

(I appreciate Android on the Streak, but GOOD GOD does it feel like a laggy piece of software compared to my iPhone and iPad. It has widgets and tons of convenient apps for pirating software or games (no... I own ALL those ROMS)... but I digress.)

So, Android unifies. Google forces handset/tablet manufacturers to adopt a stock OS interface. How will they differentiate themselves? What incentive, beyond a free OS, will there be to creating "phone B" that looks just like "phone A". This is where Google will shoot itself in the foot. The less the carriers and handset manufacturers can customize, the less incentive they have to launch on Android. Heck, just emulate Android if you want the apps, right RIM?

Weren't there waves a few weeks about about Motorola wanting its own OS? I'd want to control my own destiny. This is creating a "walled garden" (Andy as caretaker) for the device manufacturers/carriers, and they're the ones that Google needs to be pushing the platform.
---
ferrari arcode logo. google
inhrntlyunstabl
Apr 25, 03:58 PM
I always wonder what people are thinking...

"Apple <or insert any evil corporation or government entity> has 100s millions of customers, but I bet they've singled me out for tracking with the black helicopters and vans because I make $25,000 a year and have access to the a state of the art Camry and have 2.5 kids."

or

"Those bastards at Apple <or insert again> are trying to figure out what I like to buy with their Genius tracking the songs I download, ads I click on, etc. to try to target ads and future products at me! Those sons of bitches!"

People, 1984 was long ago. You have no privacy unless you don't live in society, e.g unabomber. Get over yourself, you are not so special Apple is paying any specific attention to you. They want to know how many 1000s of people are at your Starbucks, but not you. Otherwise, encrypt your backups, chain your iPhone, iPad, Macs and PCs to your wrist, and shoot at anyone that looks over your shoulder.

Besides, the iPhone Software License Agreement is pretty solid on this front. The only hole to fill is why it might still be logging when Location Services is disabled. But at end of the day, this is a tiny tiny aspect of a much much larger issue - we use technology that will track what we do, influence us, etc. We have to learn to accept this. It's going to be impossible to stop this. Get over it.
---
Wasp Barcode Jeff Schmeling
I hope that the new FCP will resemble iMovie: No need for rendering and a precision editor! I like the ease of use of iMovie, should be adopted by FCP.

Looking for some controversy are we?!!! :rolleyes:
---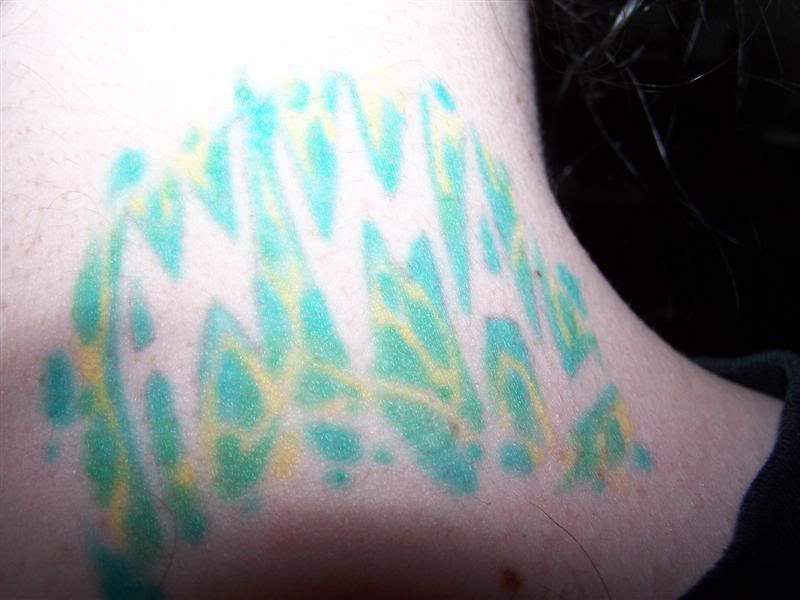 slipknot arcode logo.
Isn't it amazing that so many of these XOOM owners also, coincidentally, "own" an iPad/iPad 2, or their spouse/mom/dog/significant other does?

Either there's a lot of exaggerating (astroturfing) going on, or someone's spouse/mom/dog/significant other has a lot more sense. ;)

Why, I own an iPad and a XOOM and a Galaxy Tab and that HP Windows 7 Slate thingy and a Nook and a prototype PlayBook and I can tell you from personal experience that the iPad is like 100x better than all of those! :rolleyes:

I own both currently, and the reason is because I just like all technology. I give everything that looks interesting to me a fair try before dismissing it. I dont mind people talking about their own experiences with their own iPad, i just hate the people who comment on other hardware have NEVER used it at any length.

I like what the iPAD offers hardware wise and 3rd party accessory wise. If I could stick Honeycomb on a iPAD 2 hardware... I would be in heaven.
---
Wasp Barcode Technologies.
I've been using Premier Pro CS5 on a 2008 MBP for about a week now. I'm a former FCP user. The mercury engine thing does work but only for all but the simplest of editing on my machine - I use AVCH footage Panny HMC40 and DLSR (h.264) Canon 7D and yes you can drag it onto the timeline directly without Transcode BUT add an effect or simple color correction or title and the footage is not playable at all (on my poor machine) without doing a render. Never had to do this with FCP BUT of course I had to wait for the Transcoded to ProREs 422.
So in summary:
ferrari arcode logo.
This intel crap updates far too frequently...ugh

:mad:

Speaking personally, I don't see a problem with it.

They've always had updates roughly every 3-6 months, of one kind or another.
---
slipknot arcode logo.
I see your point. Personally, I'd been hoping Obama might hold ground on issues such as torture/surveillance/getting out of wars, and was fully prepared to accept fiscal policies I would hate (as a conservative--NOT a Republican, mind you) if we'd get some of the aforementioned issues. Gave up on any hope of that when PATRIOT got extended, though...on a few social issues (gay rights) Obama has distinguished himself admirably from his predecessor. However, in the big picture, we've still got a shill for big business and big government/brother, who is overextending the American military with conflicts in which we cannot afford to participate.Strangely enough, I agree with you entirely. :confused:
---
Wasp Wasp Bar Code Labeler
CFreymarc
Mar 31, 05:59 PM
This is a smart move. It had to happen sooner or later.

John Gruber would eat Steve Job's ***** if he could. His opinion is extremely biased.

Tightening controls? How about Google having final right of refusal toward any mass production Bill of Materials for any Android phone going into production? That will keep the manufacturing accountants from screwing over the developers taking a $0.76 of parts out to save on a run but generate a million man hours of bug fixing in the third party developer community.
---
arcode logo design.
Cougarcat
Mar 26, 03:41 PM
You're too lost in a programing manual to see the point people are making. Blending is taking 2 things and mixing them together, or parts of things. Merging would be taking 2 things to make 1 new thing. Don't be so literal.


I don't disagree with what you are saying, but that isn't the point the guy I quoted was making. He was being that literal: "Step 2 may very well be the one & only Apple OS - based on iOS." This is absurd. Obviously OS X is taking cues from iOS. As you say, they've said so. But that's all that they are doing. (Now, might a Mac at some point use iOS in some way? Sure. Imagine a trackpad that was basically an iPod touch, or being able to fold our MacBook screens flat, which would boot iOS and turn it into an iPad. I'm sure Apple has some interesting things cooking in their labs. But OS X as we know it isn't disappearing.)

There's a group of doom and gloom people on these boards that believe OS X will go away and we'll have one OS which we'll poking at our screens with no access to the underlying file system and we'll have to start jailbreaking our Macs. This line of thinking is idiotic.
---
google arcode logo.
I ordered my 15" MBP yesterday and they are telling me it will ship next Tuesday. I sure hope that when the package arrives the MBP will have no stinking Merom, no more than 512 MB RAM, no better than an 80 Gb/5400 rpm HDD, and -- please God -- no magnetic latch! Oh - and one more thing: Apple better not send me a refund if they lower the price before the package hits my doorstep. :mad:
---
slipknot arcode logo. of the
kevin.rivers
Jul 15, 10:44 AM
Life's great, no complaints whatsoever. :)



That would be nice as well. It would definitely increase the longevity of the Mac, since if you ever wanted to upgrade the P/S, or if it blew, it would be a lot easier to do so. Still possible the way it is of course, but this would probably result in less hassle.

I disagree. Using ATX power supplies is a stupid idea. I am sure Apple uses higher quality power supplies than you would pick up at your local CompUSA.

If they allow this there will be a lot of dead Macs, from power supplies whose rails aren't strong enough.

Not to mention those who buy the 400W model because it is only 20 bucks and drastically underpower there Mac.

This would cause too many problems. Keep it proprietary IMO.
---
ferrari arcode logo.
notabadname
Apr 25, 03:32 PM
There is also a difference in whether the phone keeps and uses data to function and perform services, and whether that data is transmitted to Apple and used by Apple for tracking. The burden of proof (it would seem - in my non-laywer opinion) would be to show that Apple is specifically collecting that data and using or storing it. Not just that the phone keeps it resident, on-board for use by Apps which the user may "allow" to use location data.

I'm betting Apple is smart enough not to be collecting the data outside the SLA.
---
google arcode logo.
fraserdrew
Aug 6, 01:02 PM
I have tried the vista Beta, and ran in via BootCamp, so no different hardware. Tiger is miles ahead of vista.
Put simply: Tiger Works.... Vista Crashes and takes 2 years longer than tiger to do the same task.
I don't care how it looks, i don't care about see-through windows. I want something that works. Tiger gives me that.... and i hope leopard makes it even better. Tiger is ahead of the competition, hopefully leopard will be further forward, beating Vista to where it should be... In a beige, boring box:D
---
DotComName
Apr 25, 01:52 PM
Number 1: Apple is apparently labeling the reports as false
Number 2: Who even cares if Apple or Google or Microsoft or any corporation is tracking our location? What things are you involved in where you would even care? What harm could their knowledge of that information cause you? (apart from the crackpot theories of paranoid people)...
People will sue for anything these days and hopefully legislation will be passed soon to stop the ridiculousness.
---
Man if they put the power supply on the top that would just be insanely stupid. 2 Optical drives is fine by me, although I am good with just one. But the post above about a Blu-Ray drive would make having 2 logical, one is Blue-ray, other is DVD/CD +/- RW.

-mark
---
raymondso
Sep 19, 10:24 AM
35 mins til 9......the apple store is still healthy ....new product update unlikely to happen :(
---
Is having more cores more energy efficient than having one big fat ass 24Ghz processor? Maybe thats a factor in the increasing core count.

It depends on the architecture, its possible to have 24 1ghz cores being more power hungry than a single 24ghz processor.

Processor manufacturers are having problems increasing the amount of instructions they can execute, intels latest goal is to have the most amount of instructions executed with the least energy consumtion, but given constraints manufacturers are finding it easier to add a second processor than to scale a single processor to deliver the same performance as two "simpler" processors.
---
TheManOfSilver
Aug 27, 06:49 PM
OK ... wading into the mire a little bit here ...

I like the sound of some of the iMac configuration suggestions floating around here (especially the iMac Ultra). That being said, everyone's suggestions assume that the iMacs will continue using ATI GPUs. Not that I'm a total conspiracy nut, but don't you think it's possible that Apple may switch to NVidia GPUs now that ATI belongs to AMD?

As the first launch planned after the merger (I'm sure the Mac Pro configurations were set long before then), I think it's entirely possible ...
---