sin cara wwe mask. sin cara.
Alright, I'll take these one by one...

Time Machine: Nice feature, nice implementation, nice eye-candy - but I don't see it as a heavily used feature. I mean, you should hope that it doesn't have to be heavily used. I think I can count the number of instances on one hand where I deleted a file that I regretted deleting later, and I've never screwed up my install to the point where I would need to revert the system back to a previous state. Others may have had different experiences from me and this is a nice "insurance policy" utility to have, but overall I don't see it as having a major impact on the majority of Mac users in day to day usage.

Enhanced Mail: This is nice, but html mail composition was promised for Tiger and that turned into, for all practical intents and purposes, vaporware. Now here it is front and center in Leopard. Grrrrrr. (Now you know why they called it Tiger, lol)

Enhanced iChat: Nifty new features, but here's the deal: Apple needs to look beyond Cupertino and survey the IM landscape that exists outside of the US, because it's huge. Most PC-using kids and twenty-somethings overseas live and breath and depend on two kinds of software, an internet browser and an IM client. Overseas, Yahoo and MS Messenger are all that's used and the features that are provided by those clients are heavily depended upon by the overseas youth culture because they were born and raised on that stuff. If iChat (or any other client) at a minimum can't provide support for Yahoo and MS Messenger protocols with absolute one for one feature parity with PC's, you can forget about selling a Mac (or at least the Mac OS) to these kids, because it's just an absolute deal-killer without IM support that they are used to. The IM culture overseas is just that big, that integrated, and they (along with their IM friends) don't use AOL and they don't use .Mac and they aren't going to. The IM scene overseas and it's dependence on MS Messenger and Yahoo is practically a youth culture in and of itself now and ignoring that is simply bad business for Apple at this point.

Spaces: This one looks pretty cool

Enhanced Dashboard: The only thing that really needs to be enhanced with Dashboard is widget collection organization. With the sheer number of widgets that are out now, hammering on the little arrows in the Widget Bar and watching bar after bar after bar of widgets fly by while you're searching for a particular widget that you may or may not remember the name of just isn't working. The Spaces (virtual desktop) feature may come to the rescue here if different collections of widgets can be maintained on separate desktops, but is seems like Spaces is overkill just for that. Dashboard needs it's own "Spaces" (multiple Dashboard instances) or a better way of managing large widget collections.

Enhanced Spotlight: Its all good

Enhanced iCal: Okay...what else?

More Accessible: This is actually quite good as I suspect disabled access to computers will become more of a focus as time goes on particularly with disabled or handicapped employees. So it's great that Apple is leading the charge here.

Core Animation: Another avenue to the treasure chest of Apple OS eye-candy for third-party devs, just in case Core Image wasn't floating anyone's boat

Increased 64-bit support: Which will be great whenever we see increased 64-bit applications showing up.

But the overall impression is, so what? Maybe I'm being overly optimistic, but I think the so-called "secret" unseen, unknown features are the ones that will really matter for most users, what was shown today is by and large fluff. If Jobs says Apple isn't going to reveal some of Leopard's features for fear of MS pulling one of it's copy jobs, then they must be fairly significant features worth protecting until the last minute. So what matters with Leopard isn't what was seen today, what really matters is what wasn't seen.
---
sin cara wwe logo. sin cara
Oh boo hoo about the companies being "booted" from sponsorships. The company I work for goes to trade shows. The time invested is actually quite small and most of the materials are in inventory anyway. The presentations are usually based on the same script. I bet the companies aren't that disappointed. In fact they would like to be there and see what Apple is up to more than anyone else. So I bet they'll send the same presenter staff there to view and record anything of note to send back to their company.

Businesses deal with things by contract and those contracts have terms and conditions. No company would just break a contract so I'm sure everything wad handled quite smoothly behind the scenes. So I think this idea that Apple bullied or pushed people is silly.
There are a few times I have made presentations at a conference when I would have loved to have let someone takeover the podium!
---
wwe sin cara wiki. wwe sin
benthewraith
Nov 28, 07:42 PM
Many years ago a media levy was passed in the United States that applies a "tax" to "consumer digital audio" media (CD-R blanks, DAT, etc.) with the proceeds going to music industry/artists. The justification was to offset losses due to illegal copying of music in digital form (generational loseless copies). This to date hasn't been expanded to include devices like the iPod (at least I don't recall that taking place).

Which makes no sense. If they get compensated by blank CD/DVD sales to offset the money loss from pirating, then why the hell are they suing consumers for P2P?

Actually, I suspected Universal was going to do the same with the iPod, regardless of whether the Zune debuted or not. They obviously can manipulate Microsoft, they'll try and do the same with Apple.

And lets not forget, these are the same people who wish they could sue people for ripping their cds (and burning them again so as to do away with all the DRM **** they put on them).

As to why their music sales have been dropping, if half the songs on the market weren't about pimps and beating hos', probably a lot more people would buy it.
---
wwe sincarawwewiki Wwe,
I hate to burst everyone's bubble, but Kentsfield will not be appearing in any of the Pro machines for some time.

Apple will be using them exclusively in the Xserves, at for the most part of 2007. This will finally give Apple another way to distinguish their server line from their pro line.

Kentsfield is not really targeted as a server class chip, it is targeted towards single socket desktop/workstation systems. I doubt we will ever see it an Xserve system.

Apple will likely use a single and dual Xeon 51xx (Woodcrest) in their Xserve systems possibly with the quad core Xeon a little farther down the road (aka Clovertown and later Tigerton).

Review... roadmap (http://en.wikipedia.org/wiki/Intel_Core_Microarchitecture#Road_map)


They both realize that these chips belong in real servers and also requires an OS that can support such chips.

Mac OS X already can deal with quad core systems and can support more cores without any real issues.
---
sin cara wwe unmasked. wwe sin
Coming from a full-time, multimedia/journalism/photography/etc professional I have to totally and completely


AGREE!

I've seen a huge decline in Apple's interest in the professional market, and I don't even mean high end pro, we're talking SMB and SOHO type stuff here. The last revision of FCP was just not worth it unless you were buying new or buying to ensure you didn't have any left over bugs.

Avid Media Composer and Premier have gained massive leads on FCP in terms of workflow and speed. Once the younger college students start seeing how fast they can delivery a product with Adobe or Avid, they'll start wondering why the small houses switched to FCP in the first place, and start wanting to learn what the industry is working with . . . Avid, After Effects, ProTools, etc. And the iMovie Pro will be left to indie filmmakers and consumers with deep pockets

** disclaimer ** I have nothing against the indie segment . . . I am in it and love it. But Apple makes it harder with every update to justify staying with a company that has too much on it's plate, and not enough staff to keep up with the rest of the market.

Apple will always claim that "no one's buying it" rather than, "we didn't make it marketable and desirable" when they go to axe some hardware or software title.

Careful, some trolls will insist that your opinion is only relevant to your narrow world view and that you need itemized spreadsheets to prove that you know what you're talking about.
---
Sin Cara#39;s WWE debut from
The last time two times I walked in an apple store I saw a line of several people holding items waiting to purchase with no available staff personal at the counter. I saw one of them finally put the goods on the counter and walked away. Trying to get your computer problem fixed in-store is like trying to get into an exclusive day spa. I think the "genius bar" and the "geniuses" should seriously be renamed. Their arrogance and inability to fix anything in a timely manor is horrifying.
---
sin cara wwe without mask.
so its been out for some time, would you guys recommend this game? i do enjoy racing games, and am very close to buying it - just need somebody to push me over the edge!
---
sin cara wallpaper wwe. sin
Step out of your little fairytale world


I loves me some irony.
---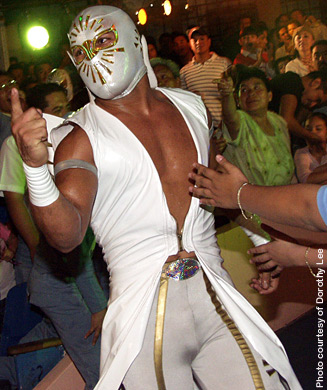 sin cara wwe wrestler. sin
Machead III
Sep 19, 09:27 AM
I hope that the MacBook with Core 2 Duo is better than the Core Duo version :)

I hope it's worse?
---
sin cara, sinkara resmi, sin
ClimbingTheLog
Jul 20, 12:56 PM
Anyone else think this is getting out of hand? Two cores, great improvement. Four cores, ehh it's faster but Joe can't tell. Eight cores, now thats just stupid.
Let me guess it will only come with 512mb of Ram :p (ok it will be at least a GB).

Have you ever owned a machine that hasn't been CPU bound? I know I haven't.

you need to do your math better, extra core = 1.5x - 1.8x speed increase. but still the same power usage as a normal core!

Where do you get these magical free electrons to drive the second core? That's some fancy silicon that uses 0W.

eight cores + Tiger = Octopussy?!?

Even Apple isn't that cool. Alas, I fear "Mac Pro 8x3.2"

How fast do you want mail to go? The main reasons you need good processors is not for browsing, e-mail, text, and such and such. I highly doubt someone who does all these things on a five year old computer will be much slower than someone on a 16 GB RAM top of the line Powermac

Have you ever done a search on a large volume of mail with AppleMail? That can eat my CPU for hours on a large IMAP mailstore on a 1.5 year old Mac. How about using Firefox with a number of useful extensions? CPU pegged for minutes when loading up the day's news stories from my RSS reader, and that's with a 2-year old Mac.

Bring the speed.
---
sin cara wwe logo. sin cara
PhantomPumpkin
Apr 27, 10:23 AM
Maybe that's what you heard.

I heard that the database couldn't be user purged (easily)
The the database kept data from Day one
and that Location services being turned off didn't change the recording of the data.

Apple fans were "more correct". Wow. Ok - if you say so.... and if it helps you sleep at night

I'm still confused how you think the "hype" was correct then.

Your points don't even support it.

As was said before, this was way overblown.
---
wallpaper sin cara wwe logo.
PowerBook G5 next tuesday?

I havn't been here long, but I don't get it. :confused:
---
sin cara wwe wallpaper. sin
BlondeBuddhist
Jun 10, 12:37 PM
When I talked to the rep at The Shack 2 days ago he told me to keep checking back for what time they'll be open on launch day. He said there is a good chance I'll know when I pre-orer the 15th.

As far as how many non pre-order phones they plan to have, he told me they will likely have as many stock phones as they get pre-ordered. Doesn't apply to those pre-ordering as much as those hitting up RS for shorter lines that didn't pre-order.

I wonder if they will allow me to pay in full on the 15th as oppose to the $50 down payment. Either way I hope this helps Radio Shack out. I have been treated 100X better by the staff there compared to Best Buy OR AT&T. Plus they're prices seem better. When I was there asking about the pre-orders I purchased a car charger/cord to plug my ipod in to the glove box that runs thru the deck for only $37 with tax.

Blonde Buddhist
---
pictures sin cara wwe raw. sin
Check out the surveys of tens of thousands of computer users at Consumer Reports. Apple's laptop reliability is within 1% of the best in the industry, and in the desktop department, Apple is by far the most reliable; some PCs are nearly twice as likely to need repairs as Macs. Rumor sites are hardly the best place to look for computer reliability data...

Ok... I suppose you like to put that much stock into Consumer Reports published by unbiased organisations! Now please excuse me, I need to place my order for some Snake Oil to take advantage of this "Buy 1 get 1 free" promotion on TV :rolleyes:

I don't really believe in all those reports, to date I have owned countless PCs (actually a lot of Thinkpads) and never once have I gotten a DOA, but yet there was actually one champion who got 5 DOAs in a row. Sure it can be argued that forums are hardly the best place to draw your sample, but how can it possibly be SO bad?! When I hardly ever got a single bad PC?

Edit: Oh and by the way, I have dealt with Applecare twice at various times for the last 4 Macs I owned (1 PBG4, 2 Minis, 1 Macbook), I have to say I am not WOWed by Apple's service at all. Likewise if you ask around here you will find that Dell actually gives pretty no quibble service. Perhaps they know what they are selling is crap and hence are not surprised when it goes bad.. who knows... but I'd rather deal with a humble organisation than a "Think different" know-it-all turd.
---
sin cara wwe raw.
Nope, he looked it up on his computer and
told me preorders start Thursday for Radio Shack.

However, I would love to be proved wrong on that.

I was told by the employee at my local Radio Shack that they go on sale tomorrow June 15. Sorry I meant you can do the pre-orders. =)
---
sin cara wwe wiki. sin cara
shelterpaw
Aug 11, 04:04 PM
No, not EVERYONE. I own 4 cell phones. By your logic, I would be counted as 4 people.And you have all the personalities to go with them. :D
---
sin cara wwe without mask.
bigmc6000
Aug 11, 02:31 PM
They are failing because they believe media content is what is important to people. Pumping their phones full of media and "services" which only are really advertisements that don't help anyone but Disney and ESPN. They are phones with superficial artificial sustainance.

Technology wouldn't be such a boom if people couldn't advertise with it some way. Apple will only succeed if it can avoid this and make a product that is functional and serves a true purpose in the consumer's life without the bullcrap content.

It's same issue of turning people from Windows to a Mac but WORSE. If people had to pay MS a fee for switching I doubt it'd be more than about 1% share. And that's what the US business is right now. Sure there are going to be a few people who pay the 170 to get out of their contract and then another 300 for the iPhone and then, most likely, an increase in their calling plan becuase now noone is free mobile to mobile.

We've headed down this contract path and I personally think it's fine. I don't plan on switching carriers all that often and if it saves me $280 off of a phone for a service I'm going to subscribe to anyway I say go for it.

Really - please pick Cingular - my g/f has it and won't get rid of it so I"m stuck. That's my plea to Steve - PLEASE!!!!
---
Mistico-Sin-Cara WWE Superstar
robwormald
Mar 22, 02:18 PM
What I'm looking forward to the most is playing with the web browsers on these machines. Our internal business applications run either in a JRE or in a web browser - on iPads we run them as full screen web apps. Works great.

Unfortunately Apple saw fit not to allow full screen web-apps to use the Nitro JS engine, so we're not seeing the same performance bumps there.

I demo'ed a Xoom for a few days - the web app support is frankly atrocious and was basically unusable - unfortunate as we're a Google Apps shop and the integration would have been nice. I don't hold out much hope for the other Honeycomb based tablets.

However, the reviews on the Playbook and WebOS tablets have been pretty stellar about the web browser - so I'm excited to see how webapps work on these (especially WebOS!)
---
tattoo sin cara wiki. wwe sin
PowerBook G5 by the holidays.
I wish this board would block automatically "PowerBook G5" and replace it with "************" so this tired so-called-joke would end someday.
---
why? iphones outselling itouches by so much makes sense to me.

But it doesn't make sense to a lot of us. The monthly fees on an iPhone are just too much for a lot of budgets. You pay your iPod touch once and that's it. No more to pay every month after that.
---
Call it what you want but these new MacBooks are crap. Yea there is people who are enjoying theirs without a hitch but look at all the reports of problems. Not once on this forum have we had a flood of problems with a single unit. Apple dropped the ball on this one. Poorly made unit
Actually EVERY single Apple product has had a "flood of problems" on this--and every other--Mac forum. Just as every product by every other company has had the same.

It's human nature (not to mention useful) to post when you have a problem. Not to say "by the way, my MacBook still runs fine this week" :D

ANY online forum will make the product in question seem more trouble-prone than reality. In fact, though, forums simply attract problems--and that's a very useful service they provide. Especially when solutions result, as often happens :)
---
adamfilip
Jul 21, 10:13 AM
Now you just need to decide what color your want your new computer... (again)

I want Apple to take the current PowerMac G5 Case
make it 25% shorter, add a second optical drive
and two more Internal hard drives
add some External Sata ports. and 4 more USB2 ports
1 more front usb2 port
make the mic port powered

and then make the case black anodized aluminum. and have the apple logo on the sides backlit just like the notebooks
---
NebulaClash
Apr 27, 10:23 AM
Hilarious!!!!! We're not tracking you but we're going to provide a patch soon.......typical Apple response......just DENY!!!!!

There is no antenna issue with the iPhone 4 but we'll give you a free bumper for a limited time, act quickly while supplies last LMAO!!!!!

Laugh all you want, but they are being sensible. If the media hype gets too great, they act, as they should.

I have no antenna issue with my iPhone 4, and I don't use a case or a bumper. I understand what Apple meant by calling it a non-issue.

Apple did not track you, it sent anonymized cell tower location information back to itself. But there was a bug that kept a locally-stored database file from being culled from all but the most recent data. So they will now provide an update to fix that bug.

But if you want to pretend that Apple is in denial mode, and use exclamation points as if your hair were on fire, go right ahead. You nicely prove the point I was just making with samcraig.
---
When is there going to be a tell all book/movie about how the media giants are run like mafias?

Oh yeah, there won't. Nobody wants to sleep with the fishes.

So does this mean that 10 years from now your pianos will come with a $1.00 vend so that you can play a song that may have been produced by Universal, or maybe not produced by them.

These people who don't actually create anything, never lifted a brush, never sang a song, never hammered a nail, have their pale thin hands out for everything and everyway their content can be played. They have their fingers into everything. Look at the way that strores have to pay them off just to play their music over their speakers. Isn't that good old fashion advertising, and the fees should be reversed?

I'm really happy to say that I am not directly involved within such a corrupt industry.
---